Inkjet Cartridge
Inkjet cartridge we use a 9 step scientific refilling process that starts from collecting empty inkjet cartridges, manual inspection, flushing out old ink, ink filling, manual test, print test, packaging & delivery. The print quality of our refilled inkjet cartridges is almost equivalent to original and the page yield that you get from our refilled inkjet cartridges will be equivalent to original specifications. We use latest inkjet cartridge refilling machineries & cutting edge inkjet cartridge refilling technology. Our refilled inkjet cartridges can be recycled several times, saving you lot of money and will also help in reducing e-waste and conserving natural re-source.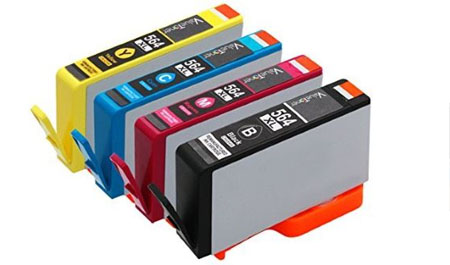 Laserjet Cartridge
Genuine — also known as "original equipment manufacturer" (OEM) are cartridges sold by the printer manufacturers. Manufacturers offer certain guarantees when you use genuine brand toner in your printer and makes certain threats if you don't. Voiding the equipment warranty is often threatened. This is not illegal, as some suggest, although it would have to be proven that any damage to the equipment was actually caused by the use of poor quality replacements.
Genuine cartridges are generally more expensive than refills, compatibles or re-manufactured toner cartridges.
Compatible Cartridge
"Compatible", "generic", or "alternative brand" are cartridges manufactured by third party companies and sold under different brand names. Compatible cartridges may vary slightly in look, design and page yield to their OEM counterparts, sometimes due to patents or design copyrights. Generic cartridges are cheaper, often significantly so, than original manufacturer cartridges. They may be less reliable, depending upon the manufacturer. Some contain more toner than OEM cartridges, printing more pages. Some compatible toner cartridges may be of similar quality to their OEM competitors, but many are not.